CorelDRAW vs Photoshop
CorelDRAW or Adobe Photoshop, which is the better software in 2022?
Read our in-depth CorelDRAW versus Photoshop comparison to see which program is right for you.
CorelDRAW was designed by the Ottawa-based company, Corel, to edit vector graphics. The program gives the user the ability to create vector-illustration, edit photography, and design great layouts.
Adobe Photoshop is a professional raster-based software, initially designed to edit photographs but has been upgraded to become one of the best, most versatile programs on the market. Professionals and hobbyists use this program to create illustrations, retouch photographs, and so much more.
For the sake of clarity, I am comparing CorelDraw Graphics Suite 2020 with Photoshop. This version of CorelDRAW is the most complete in comparison to CorelDRAW Essentials and CorelDRAW Standard.
Comparison At a Glance
1. Features
Winner: Adobe Photoshop. Adobe Photoshop has a wider variety of features than CorelDraw. While CorelDraw is still a powerful vector-editing program, Photoshop's tools offer more precision, and you can do more with the software. Examples include animation, raster-based illustration, and more.
2. Pricing
Winner: Adobe Photoshop. Overall, Photoshop is a much better choice in terms of pricing. While you can get CorelDraw for $499.00, Photoshop has many affordable bundle options and gives you the latest software with an active subscription, no extra fees.
3. Collaboration
Winner: CorelDRAW. This program has a built-in chat feature that is great for collaborating with others. You can comment and mark up the designs, making the working process between people that much more seamless.
4. User Interface
Winner: Adobe Photoshop. Adobe Photoshop has an elegant user interface. The layout is intuitive, clean, and easier to navigate.
5. Compatibility
Winner: Tie. Both Adobe Photoshop and CorelDRAW are available for Mac and Windows, and mobile devices. Both work within their family of applications, making them versatile programs.
6. Learning
Winner: Adobe Photoshop. Both CorelDRAW and Adobe Photoshop have tons of tutorials and learning features. Adobe Photoshop has a more robust learning system in place, with more lessons, a better online help interface, and a bigger community forum.
7.Users
Winner: Adobe Photoshop. Adobe Photoshop is more widely used than CorelDraw. This is because of its versatility as an application, as well as its ubiquitous use.
CorelDRAW Vs Photoshop:The Verdict
CorelDraw is a powerful vector-based program, while Adobe is a feature-rich raster-based program. Comparing them is a bit like apples and oranges. Overall, Adobe Photoshop offers more. If you need only to create vector-based images, then CorelDraw may be perfect for you.
1) Features
Both CorelDRAW and Photoshop offer advanced tools to create great finished designs. CorelDraw is great for creating logo designs, flyers, vector art, comic art, mostly geared towards print. Photoshop is used for editing photography, illustration, basic animation, and more. Overall, Photoshop has more features and is geared towards a greater audience than CorelDraw.
Photoshop has a huge variety of tools. The Clone Stamp tool paints on the canvas from other parts of the image, making it a great feature for photo retouching (i.e., getting rid of acne spots, skin discoloration). The spot healing brush tool will also do this, but automatically, sourcing colors from around the discoloration to create a seamless cover.
Photoshop also has a great variety of selection tools. The magic wand tool is especially powerful, selecting similarly colored areas. The quick selection tool follows edges in an image, allowing the user to select a subject quickly.
Overall, the best part of Photoshop's features is the amount of precision. Each tool has a slew of adjustment features, such as changing size, pressure, opacity, and more, depending on the tool. The customization gives you the most control over creating.
CorelDRAW has great vector-drawing features. They have the freehand and Bezier tools, letting you create vector shapes that are not rectangular or other polygons. The B-Spline tool is great for letting you draw with a freer hand, still giving you control points to create a smooth shape.
Both CorelDRAW and Photoshop work with raster images and vector files. Photoshop works with Smart Objects, retaining vector/photographic information when resizing the layer. CorelDRAW also imports raster and vector files, letting you work with them in the same document. The graphic type for Photoshop is raster-based, while CorelDraw is vector-based.
Both CorelDRAW and Photoshop have tons of artistic filters. A common filter in CorelDRAW is the smooth acrylic filter, making your photograph look like a finished painting. You can adjust the smoothness, detail, etc., to create your desired look.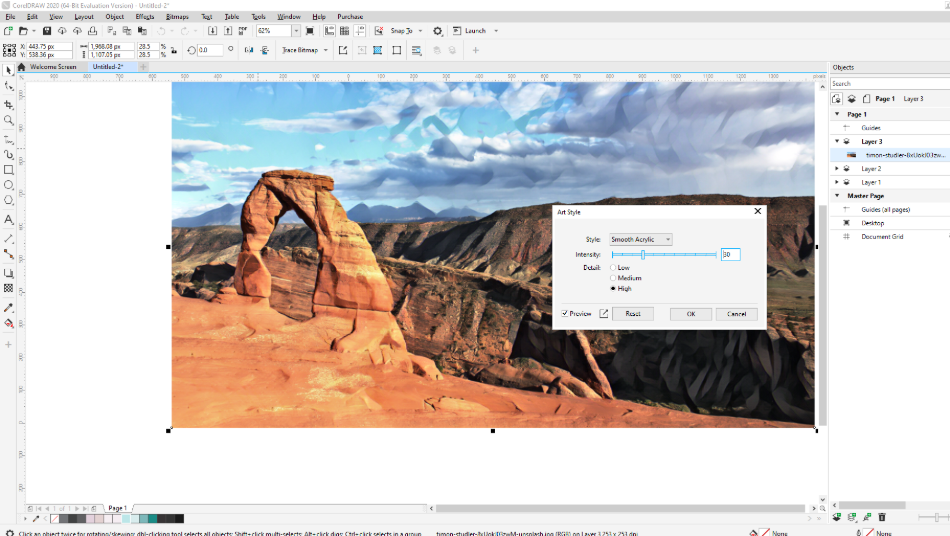 Here, Photoshop transforms a photograph into an oil painting. Again, this program offers tons of adjustment settings to create that perfect final work.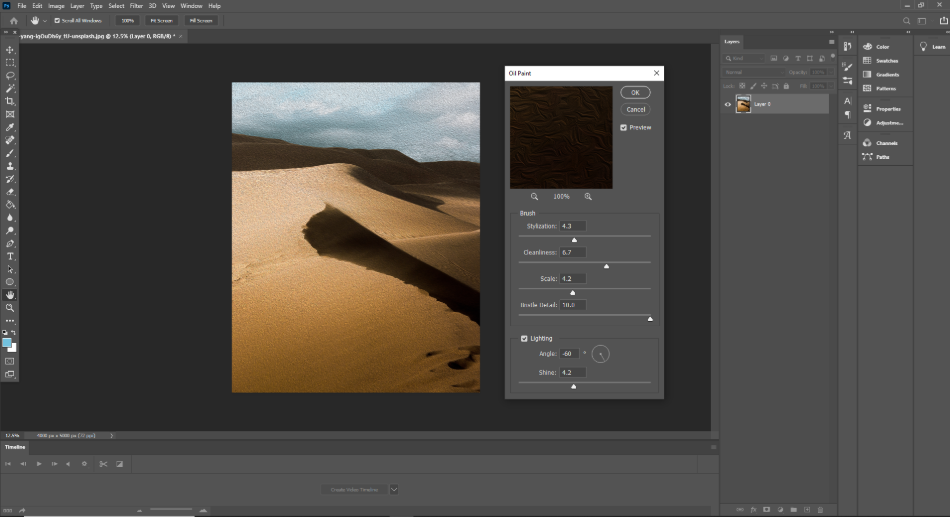 A powerful tool of CorelDRAW is PowerTRACE and Quick Trace, a built-in tool that traces a bitmap image into a finished vector piece. The PowerTRACE settings take a bit of time to adjust the image properly. However, the user can create a great finished vector drawing without having to draw anything manually. The finished product is accurate and detailed.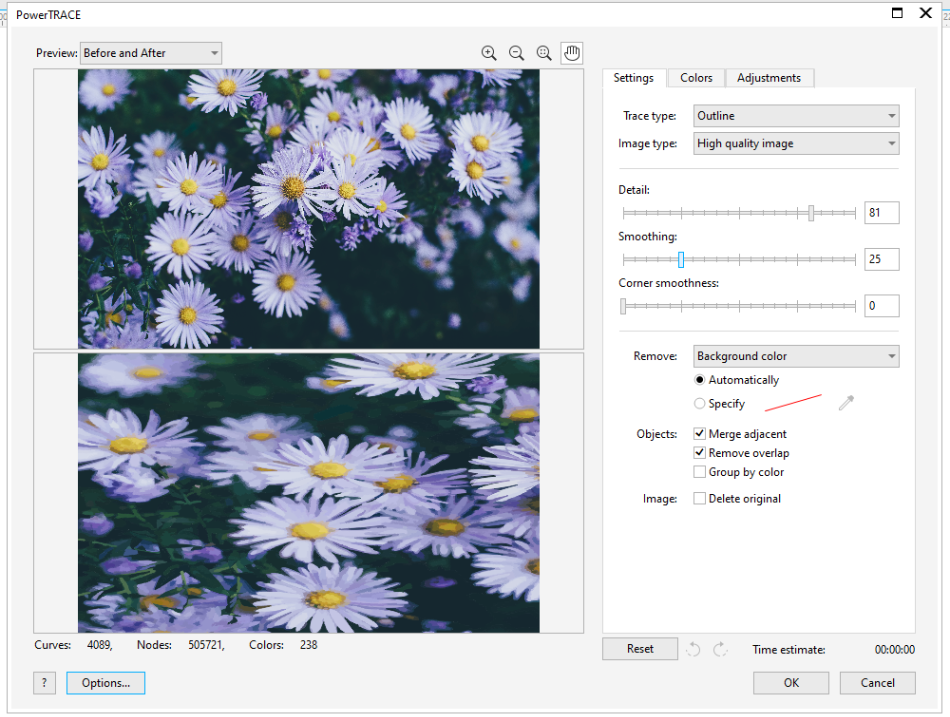 Finished Design: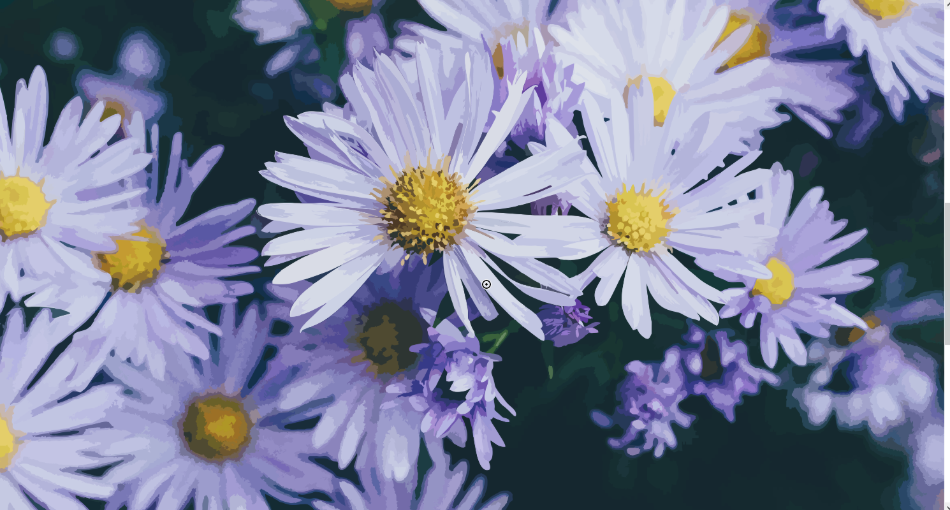 Photoshop doesn't have PowerTRACE, the most similar feature in the Adobe family being the Image Trace tool in Illustrator. You can, however, create vector images in Photoshop using paths. You can either trace the image manually using the pen tool or create a more guided selection using the Magnetic Pen tool. This tool follows the brightness and color within an image to make a guided, automatic selection.
Overall, Corel offers a much more intuitive feature for converting from bitmap to vector graphics.
In terms of animation, Photoshop has a great feature called Timeline. While Adobe After Effects is better for animation overall, Photoshop is a great tool for simple, short animations like GIFs. Meanwhile, CorelDraw does not have a built-in Timeline feature. You have to go outside the software to create animations.
Overall, CorelDRAW is great for vector graphics and vector illustration. Photoshop's tools are more customizable and have a bigger range of functions. In terms of what the programs can do, Photoshop is much more feature-rich and has way more to offer.
Winner: Adobe Photoshop
2) Pricing
| Product | Regular Price |
| --- | --- |
| Adobe Creative Cloud | $52.99/month |
| Adobe Photoshop | $20.99/month |
| CorelDraw Graphics Suite 2020 | $785.00 (one-time) |
| CorelDRAW Standard 2020 | $419.00 (one-time) |
| CorelDRAW Essentials 2020 | $155.00 (one-time) |
CorelDraw is available for subscription and a one-time purchase. Adobe Photoshop is subscription only. Read on to see what price is better for you.
CorelDraw Graphics Suite 2020 is priced as a one-time purchase and as a yearly subscription. You can get CorelDraw for $379.00/year or pay a one-time fee of $789.00.

Both plans include Painter Essentials 7 for free. The one-time purchase plan includes an optional upgrade protection plan for $149.00/year. If you keep this active, you will receive the newest versions of the CorelDRAW Graphics suite at no additional cost.
There are also other versions of CorelDRAW available for Windows, CorelDRAW Essentials 2020, and CorelDRAW Standard. Both versions have fewer features than CorelDRAW but offer more affordable prices. We will only be comparing CorelDRAW from the full graphics suite for clarity's sake because this one is the complete version of CorelDRAW.
Adobe Photoshop, on the other hand, is only available via a subscription model. The pricing options include:
$9.99/month ($119.88/year) for Adobe Lightroom and Photoshop bundle. There is no annual subscription discount.
$20.99/month ($251.88/year) for just Photoshop. If you pay annually, the price goes down to $239.88/year.
$52.99/month ($635.88/year) for the full Adobe Suite. If you pay annually, the price goes down to $599.88/year.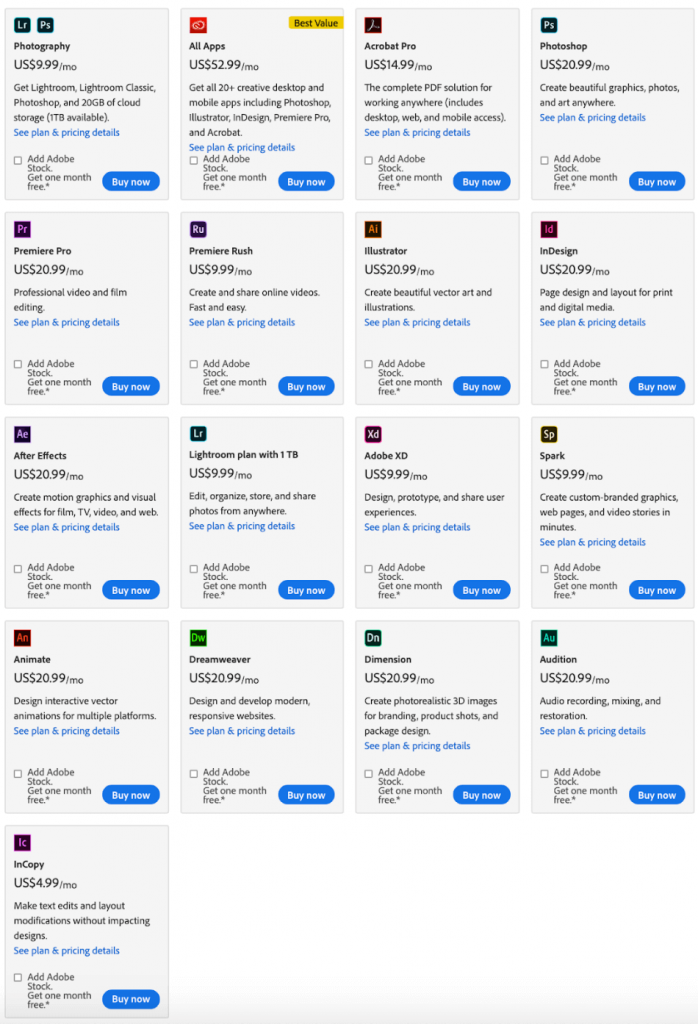 Also, keep in mind that these monthly prices are held in a one-year subscription contract. If you want to pay month-month and cancel anytime, the monthly prices go up by 30% or more depending on the bundle.
If you are a person who wants the newest software, getting Adobe Photoshop is a clear choice. The Photoshop and Lightroom bundle at $119.88/year is less than half the price of the CorelDraw $379.00/year subscription fee.
If you only want to purchase the software once and don't care about having the latest program, the one-time purchase of $789.00 might be right for you. Over time, a one-time purchase will be cheaper in the long run. The Adobe Photoshop and Lightroom bundle will surpass the $789.00 at $599.40 spent in five years.
However, it is worth noting that the Adobe subscription will continue giving you the latest versions of the software, and you can quit after a year. The Adobe subscription can save you money if you decide not to use design software in the future. CorelDraw's one-time purchase is a long-haul decision, with an expensive $149.00/year subscription option if you want to be able to upgrade without additional cost.
Overall, I would say Adobe Photoshop gives you better options in terms of price and updated software. You get the latest and greatest without breaking the bank.
Winner: Adobe Photoshop
3) Outside Collaboration
In terms of collaboration, Adobe Photoshop does not have built-in tools like CorelDRAW. You can comment, resolve issues, all within the CorelDRAW application.
CorelDraw has a great collaboration tool called the Comment tool. You can make comments, clicking on specific points on the artwork, use arrows, etc., to mark up the piece.
Other collaborators can comment on the artwork using the CorelDRAW.app online, therefore not requiring them to download the software on their devices. This is great for convenience's sake.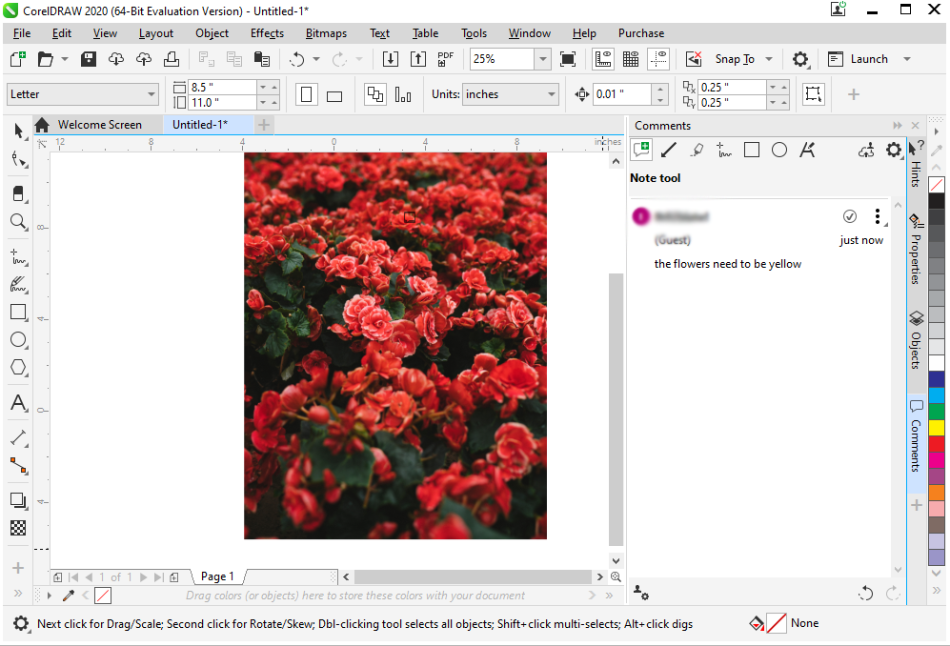 In comparison, Photoshop does not have a built-in collaboration feature in the application. You have to export and leave the app to show your work to other teammates or clients.
Overall, until Photoshop has an in-program comment tool, CorelDRAW takes the cake in terms of collaborating.
Winner: CorelDRAW
4) User Interface
Photoshop has a cleaner user interface than CorelDRAW, which is clunkier and not as intuitive. Also, photoshop has better customization and workspaces.
For example, creating a new document is more natural in Photoshop. Photoshop gives you more options and a better visual representation of what type of document you would be creating. Photoshop even organizes the types of documents based on your final output: Web, Mobile, Print, etc. CorelDRAW still gives you document customization but is less detailed in presentation.
CorelDRAW: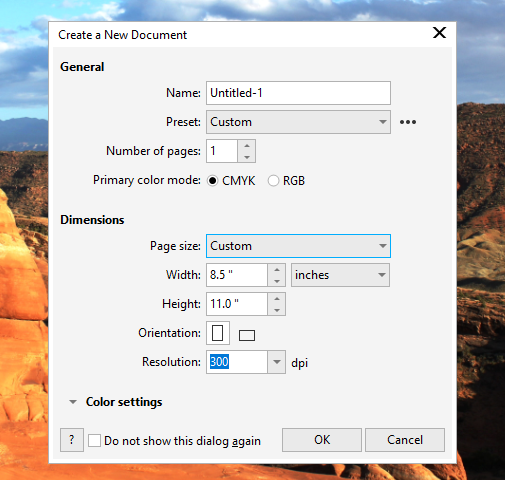 Photoshop: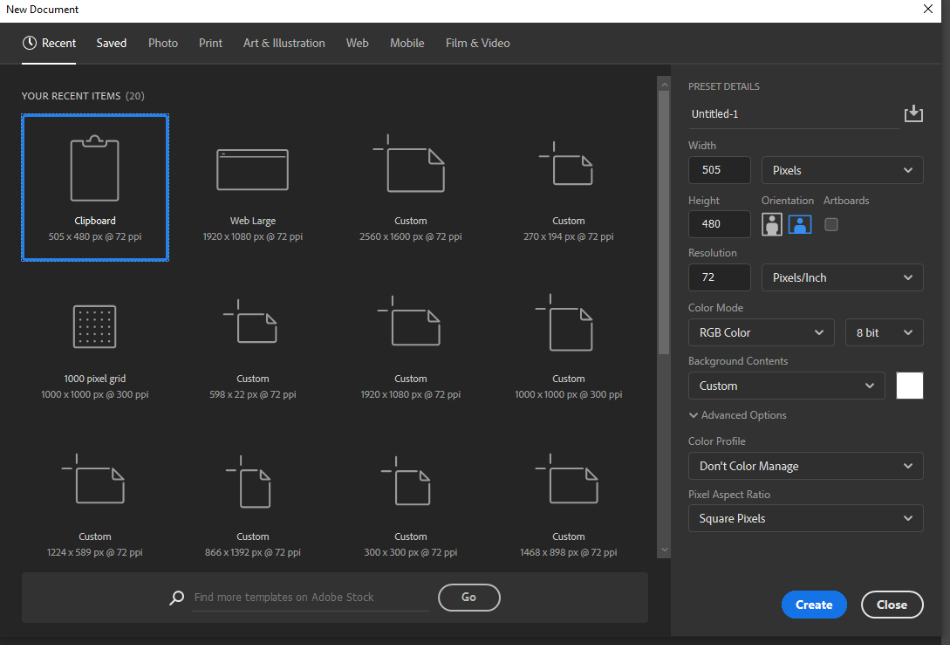 In terms of customizing the workspace, both CorelDRAW and Photoshop give you options. However, Photoshop gives you more workspace choices over Corel. Dragging the windows around in Photoshop is more magnetic and easier to accomplish as well.
Overall, Adobe Photoshop is better looking and easier to work with.
Winner: Adobe Photoshop
5) Compatibility
Both Photoshop and CorelDRAW have pros and cons in terms of compatibility. Both have a family of applications that work well together, and both work on Windows and Mac. Photoshop also has a limited-feature iPad version and sister apps that work on mobile.
Adobe Photoshop is compatible with Adobe's full suite of programs, including Illustrator, After Effects, InDesign, and more. The software makes it easy to transition from one program to another, making this a great choice for projects that require different types of media. (Video editing, web design).
CorelDRAW works with Corel's suite of applications, including Corel PHOTO-PAINT 2020, Corel Font Manager 2020, AfterShot, and more. CorelDRAW Graphics Suite has an online web browser called CorelDRAW.app. This online application is one of the best features of CorelDRAW.
CorelDraw.app allows the user to design software anywhere, using it via the web instead of downloaded software on your computer. You can use any computer and still make your designs, a great feature if you have to work remotely. In comparison, the Photoshop program has to be downloaded to your computer and can only be used on a limited number of devices.
Overall, Photoshop and CorelDRAW both connect to a bunch of their own family of applications. They also are compatible via Mac and Windows, making them versatile programs.
Winner: Tie
6) Learning
Both Adobe and CorelDRAW have good learning platforms. They have community forums, tutorials, and direct contact features. Overall, Adobe offers more robust services, tailoring their services for the user.
Corel has a learning platform called Corel Discovery Center. There are many tutorials and a blog with articles about new features and the many ways to use Corel software. CorelDraw has a full How-to Guide, teaching you step-by-step lessons on everything from creating a logo to creating flyers and web graphics. Corel has a chat, email, and phone support as well.
Adobe also has many tutorials available online. They have lessons sorted by experience level on their Photoshop Tutorials page, teaching you everything from basics to advanced color manipulation. They offer 24/HR support with Adobe agents via chat and phone Monday through Friday. They have FAQ centers and filters to sort questions based on application.

Both Corel and Adobe offer learning tutorials within the application. Adobe has step by step tutorials, walking you through how to do an effect from beginning to end. CorelDRAW offers a Hints tab, giving you written instructions on how to use a tool.
Both programs have community forums. However, Adobe's community forum is intuitive and vast. The user interface is clean and easy to navigate. You can filter by application or project (Illustration vs. Video vs. Photography, etc.) and search by popular topics.
Corel's forum is still usable. However, fewer people are using the forum compared to Adobe. Think thousands of conversations in Adobe versus hundreds in Corel. You can search by program, relevancy, or popular tags. Overall, this resource is much more limited.
In terms of ease of learning a program, Corel is easier to learn. The program is not as vast as Photoshop. Adobe Photoshop requires a huge learning curve because of the sheer number of tools it offers and continues to add.
Both Adobe and Corel Draw use video tutorials and text guides to teach the user new techniques and features. Having both options can be helpful when learning a new feature. Often, Adobe will also have downloadable content so you can follow along in the lesson.
Overall, Adobe Photoshop has a bigger support system online with more tutorials and lessons to teach you the program.
Winner: Adobe Photoshop
7) Users
Adobe Photoshop has a wider user base than CorelDRAW. CorelDRAW is focused on more print media. Adobe Photoshop, with a focus on photo manipulation, has a wider audience.
Adobe Photoshop's variety of features make it a great program for many professionals. The application has everything from detailed photo editing tools to powerful layout and typography features, making it a great tool for various final designs.
CorelDraw is more print-focused. The vector-based program is great for designing logos, flyers, anything that needs to be resized without losing resolution.
Many graphic design-based businesses require experience with Adobe Photoshop. Jobs require this program because Adobe is used as the main software for many businesses. The Adobe Creative Suite offers a huge variety of applications, and they work seamlessly with each other. In terms of the professional world, Photoshop is the standard.
Overall, more people use Adobe Photoshop because of its use in the professional world and its versatility in what it can create.
Winner: Adobe Photoshop
Final Thoughts
Adobe Photoshop and CorelDRAW are two very powerful programs. The right software for you depends on your usage.
CorelDRAW is great for a person who does not want the current newest features, wants a program that you only need to purchase once, and primarily works with vector graphics. The program is also very collaborative and easy to learn. If your business doesn't require Photoshop, CorelDRAW and its software suite may be your best fit.
Adobe Photoshop, on the other hand, is feature-rich and great for a huge variety of tasks. It works within the huge Adobe family of software. The program is also a must-learn for many businesses. If you primarily work raster-based and need a powerhouse program, Photoshop is perfect for you.
Frequently Asked Questions
What is the difference between CorelDRAW and Photoshop?
CorelDRAW is a vector-based program by Corel, used to create vector graphics and illustrations. Photoshop is a raster-based program by Adobe, used to manipulate photographs and create pixel-based media.
Is CorelDRAW still used?
Yes, CorelDRAW is still used by many creative professionals. They have continuously updated their software, adding great new design features.
Is CorelDRAW easy to use?
CorelDRAW is easy to learn, unlike photoshop. The in-app hints allow the user to jump into designing without much effort.
Why is Adobe Photoshop so expensive?
The software is top-of-the-line when it comes to graphic design and photo-editing. The program is constantly updated with bug fixes and new features, making it one of the best programs out there.